Notting Hill Carnival 2018 Is Here At Last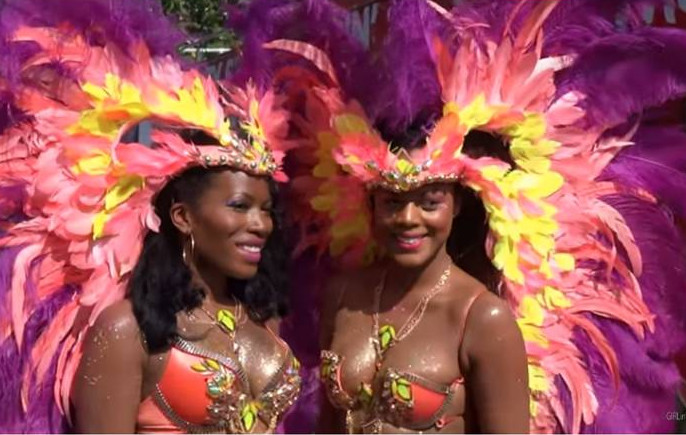 2018 Notting Hill Carnival takes place in August. The main parade, sound systems and parties are all on Sunday 26th and Monday 27th. Sunday is traditionally 'Family Day' so best if you're bringing little ones.
Europe's biggest street party has taken place every year since 1966, celebrating the capital's Caribbean culture, heritage, music and food. It started as a way to bring the multicultural Notting Hill community together, when local resident and social worker Rhaune Laslett invited well-known Trinidadian steelpan player Russell Henderson and his band to perform at a community event.
The players spontaneously started to weave their way through the streets around Portobello Road and were joined by a trail of dancing locals – and boom, Carnival was born. Since then, it has grown into the vibrant and incredibly popular wild weekend-long party it is today. More than two million people are expected this year to come and enjoy the parade, dance until their feet are sore, blow whistles, mainline Red Stripe, eat vast amounts of jerk chicken, desperately try to get coppers to dance and generally enjoy the good vibes.
The floats begin near Westbourne Grove tube station at 9.30am and then travels down Great Western Road. The feathered dancers and steel bands make thier way down Chepstow Road, on to Westbourne Grove and then up Ladbroke Grove. The parade winds down around 6.30pm and sound systems shut down at 7pm.
The UK National Panorama Steelband Competition will take place on Saturday 25th. Six of the country's top steelbands – with up to 100 members each – will play a colossal 10-minute composition from memory (no sheet music allowed) in a bid to be crowned the 2018 Panorama champs. The competition is now in its 40th year and this is the first time that it will be ticketed (all money raised will be split among the musicians equally). Plus there'll be food, dancing and the chance to vote for your personal favourite on the NHC app. It takes place at Emslie Horniman Pleasance Park, Bosworth Road, London, W10 3DH, and times are 6pm – 11pm. Tickets cost £5 from eventbrite.co.uk.
The spectacular, colourful parade is the central artery to the Carnival and features the best bands and most fabulous sequin-clad costumes. Sunday is traditionally the slightly smaller and less hectic 'children's parade' with more kids' floats and family-friendly activities. The main parade is on Monday 27th, when more than 60 bands and mobile sound systems and countless flamboyant floats parade through the streets of Notting Hill.
With around 40 static sound systems featuring world-class DJs pumping out dub, samba, reggae, house, soca, dancehall, disco, soul, hip hop, R&B and everything in between, just follow your feet and you'll soon find something that gets you moving. The sound systems inside the parade route will be the sweatiest and most crowded, so if you want some space to throw shapes, find one a tad further out. There are also live stages dotted around, which are well worth watching.
If you couldn't make it for the 2018 Carnival, you can still watch it live on the Notting Hill Carnival App.